Venky's and Blackburn Rovers story – When Takeover by new Owners goes wrong
Every football fan would have dreamt about a day when their Club is taken over by Billionaires like a Sheikh Mansour or a Roman Abramovich or a Vichai Srivaddhanaprabha but things don't always work out like that. For Every Sheikh Mansour, there has always been a Mike Ashley.
Based on who you ask, Venky's could be called misguided owners who are Willing to pay for their mistakes to a 9- year long nightmare that has caused a well established Premier League Team to play Championship and even League One football.
The reign of Venky's as owners has undoubtedly caused a lot of agony for Blackburn Rovers supporters. Some of them have even said that they will not step foot in the club till Venky's Leave the club. Let us take a Brief look at Venky's Take over.
Venky's Blackburn Rovers Take Over
In November of 2010, a newly established company Venky's London Limited has acquired 99.9% of stake in the club for a fee of £23m paid to Jack Walker Trust and paid off a debt of £20m. Venky's London Limited is owned by Venkateshwara Hatcheries Group, an Indian Poultry conglomerate with 28 companies and a turnover of £1 billion.
Fans might not have expected them to be another Jack Walker but were a bit optimistic about the future of the club. As soon as they came in they removed Sam Allardyce from the post claiming it is because of his brand of football.
This is where things start getting sour for Blackburn Fans as Venky's who is from another side of the world didn't have much knowledge about running a football club. So, Venky's had to depend on the advice of the agent Jerome Anderson who was part of Crescendo Sports Limited and helped them in acquiring the Club.

It was reported that there were no checks and balances in place at the club and board members like John Williams, Tom Finn, and Martin Goodman were not consulted with the appointment of Steve Kean as manager. This lead to fans Bewilderment at first and later with relegation from the premier league turned into anger against owners.
We want Venky's Out, We want Venky's out,

We want Venky's out, We want Venky's Out!

We want Our rover's back, We want Rovers back!
was the song that was echoing around Ewood park.
Steve Kean was able to guide Blackburn to safety in the 2010-11 season but the 2011-12 season proved his inability as a Premier League manager which lead to 19 place finish and consequent relegation to the Premier League.
In 2011 club's long-serving chairman John Williams along with Tom Finn, and Martin Goodman which meant that Steve Kean had ultimate power at the club.
Rovers fans will not be satisfied even if write this entire article about Steve Kean but his appointment is just one among the long list they have committed since.
First Relegation
Relegation from the Premier league meant there was more anger among the fans. There were fights breaking out in stands, There were protests being held everywhere, in brief, the mood was gloomy around the club.
All the while owners were still backing Steve Kean and helped him secure services of Club Record signing Jordan Rhodes, Leon Best, Dickson Etuhu among many others.
Kean resigned as manager after 7 games into the season and an abysmal performance against Middlesbrough. Eric Black took over as a caretaker till Board led by Derek Shaw was able to find a replacement.
A month later Henning Berg was confirmed as manager. He also didn't prove the right choice as the team dropped from the playoff position to the 17th. Subsequently, he was also sacked. But he went onto win a lawsuit worth £2.25m claiming he was unfairly sacked against the Club.
Gary Bowyer took over as in charge of the first term. He was succeeded by Michael Appleton who was in control of the club for 67 days after which he was also sacked.
Gary Bowyer took charge as interim manager and helped secure the Championship status of the club.
Gary Bowyer Era
Gary Bowyer was announced as a Permanent manager for the 2013-14 season and would stay as in charge for two and a half years. He has in many ways stabilized the sinking ship which was Blackburn Rovers Football Club.
His reign came in a period were club was under FFP Transfer Embargo which meant he could only sign players on Free or loan transfers.
During his time Blackburn Rovers finished eighth in his first full season, followed by ninth in 2014-15.
He has brought in players like Ben Marshall, Corry Evans, Shane Duffy, Rudy Gestede, Tom Cairney and Craig Conway among many others as in charge of the club
But in 2015-16 he was sacked with Rovers sitting just four points above the relegation places and club owners feeling Boyer was not getting the most out of players he has.
Paul Lambert
Lambert guided the club to 15th place placed finish. He left the following summer by activating a release clause in his contract claiming he can not guide the club to promotion into Premier League with funds that were being offered to Him.
Owen Coyle
When one of the former Burnley, Bolton Wanderers and Wigan Athletic man was appointed as Blackburn Rovers manager many of the supporters who were still following the club called it "final nail in the coffin" of them defending Venky's. Owen Coyle left the club on Mutual Consent in February.
Tony Mowbray, The Savior…..?
Tony Mowbray followed Coyle as yet another manager appointed by Venky's but unlike his predecessors, Mowbray was able to change fans conversation about the club. He has filled fans with optimism about survival.
On the field, the performance was also given a boost but even with that Blackburn Rovers didn't survive Championship Relegation battle and were relegated on the final day of the season on goal difference.
Second Relegation
Relegation meant Blackburn had to play in League One. But, it is being considered by many as a blessing in disguise since Mowbray and Directors were able to restructure the club. Club has also brought in Steve Waggott as CEO.
The Club has signed stars like Bradley Dack and Peter Whittingham former EFL Team of the decade player as statement signings. The Songs that were being sung by fans were not about owners but were about Mowbray and his men.
Tony had a dream, to build a football Team
He had No Money so he signed some players on Loan
With Mulgrew at the back and Dack in Attack
We are Blackburn Rovers and we are on our way back
Blackburn Rovers were able to successfully achieve promotion on the first time of asking. They celebrated the promotion party on the final game of the season against Oxford United with nearly 27,600 people cheering on.
First promotion
The club signed Adam Armstrong, Joe Rothwell, Jack Rodwell, Ben Brereton, and Harry Chapman in a season which is considered as rebuilding season by many Rovers Fans finishing 15th in a very closely fought table.
But Unlike previous years Mowbray's signings like Ben Brereton, Peter Whittingham(Who is no longer at Club) are being questioned and there are only civil conversations being held between fans.
The Club also saw an increase in attendance year-over-year with fans being in a positive Outlook. Transfer Plans for the future is outlined by Mowbray who says the club has built a European Scouting Network.
He has said he is ready to make tough decisions and let Star players like Dack leave and rebuild the Team from transfer Money here is the post
"I'd like to keep our best players but then add some more and give us a really good chance next year"

And #Blackburn head coach Tony Mowbray is certain they will include some defenders#Rovers #bbclancssport #bbcfootball pic.twitter.com/4S2vJaEzWO

— BBC Lancashire Sport (@BBCLancsSport) May 2, 2019
Finances
The club had a debt of £130.5m according to documents disclosed to Her Majesty's company house documents Linked here . of the £130.5m debt owed to Owners was £108.7m.
The Club made a £16.7m loss in their League One season(2017-18). Their Turnover, Wages decreased while Operating expenses Increased.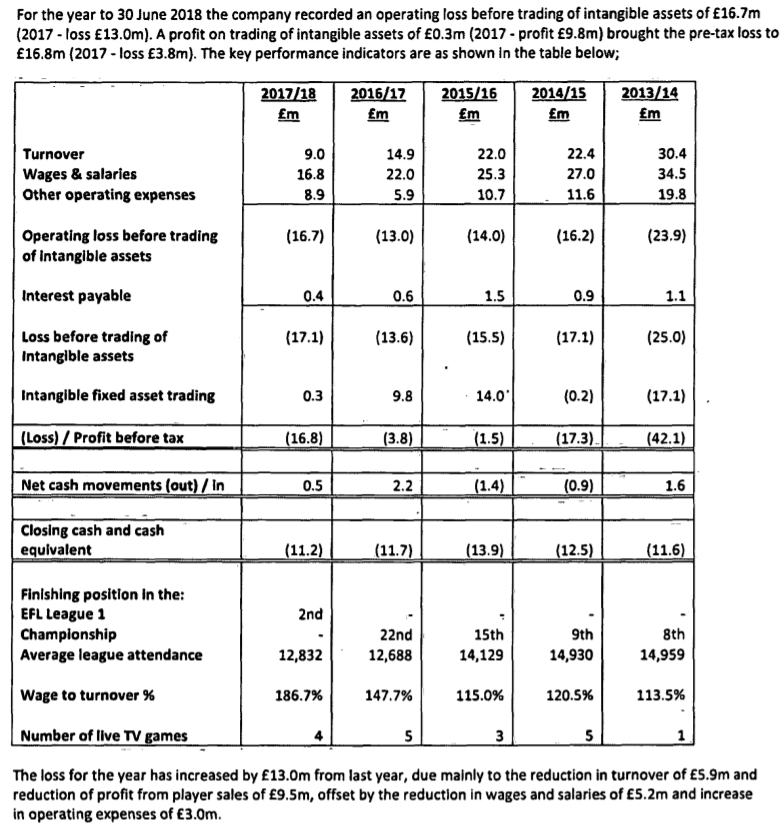 They had an average attendance of 12,173 which increased to 14,552 for the 2018-19 season in the championship.
What's Next
There is no doubt in saying no one who is a Blackburn Rovers will love Venky's Ownership but if Mowbray and his men are funded properly at least we won't be singing Venky's Out.
What are your thoughts on Venky's? Can they ever redeem themselves for all the agony they have put Blackburn Rovers Fans Through?