FA Community Shield 2019 Preview – Man City vs Liverpool
Even before the ball is kicked, we can make a guaranteed that one team and their fanbase are going to celebrate the victory end the end of the match while their rivals and losing team fanbase are going to claim that it is just a "glorified friendly."
Let's start by understanding the history of Community Shield.
History of Community Shield
2019 edition is going to be officially 97th time the curtain-raiser is going to be held in the current version that is Football League winner vs. FA Cup winner.
While the tournament dates back its origins to the start of the Sheriff of London Charity Shield in 1898, then it was held between professionals and amateurs squads but following a dispute between leading Northern amateur clubs fell out with the FA it became a competition where only southern Amateur squads participated in 1908.
In the 1920s the match started taking the current form and has evolved as the years went on, but it was called Charity Shield till 2002.
In 2002, Charity Commission for England and Wales found that FA broke fund-raising regulations that led to Match being named Community Shield and has been using the same since then.
The tradition of playing at Wembley began in 1974 but took place between 2001-2006 at Millennium Stadium because of Wembley reconstruction and at Villa Park in 2012 due to the Olympics closing ceremony date clash.
Manchester United are the most successful team with 21 wins followed by Liverpool and Arsenal in the second position with 15 each, but Arsenal has only one shared win while Liverpool has five shared victories to their name.
Yes, you read it right teams shared the trophy in the past with one side holding it for first six months while other team kept it for the rest of the season. This changed in 1993 when penalties were introduced.
Community Shield Prize Money
FA doesn't award prize money for Community Shield winners as the proceeds from the match go to charities, but each participating team gets a fixed fee.
The money generated from gate receipts and match programme sales is distributed to 124 teams that participate in the FA Cup from round one onwards with the expectation of this money going to Charities of their choice.
While T.V money and other commercial revenue go to FA Charity partner. For this year the charity partner is Bobby Moore Fund for Cancer Research UK
Where can I watch community shield 2019?
You can watch Champions League winners Liverpool take on English treble winners Man City by visiting following TV channels and apps. The credit of below images goes to Man City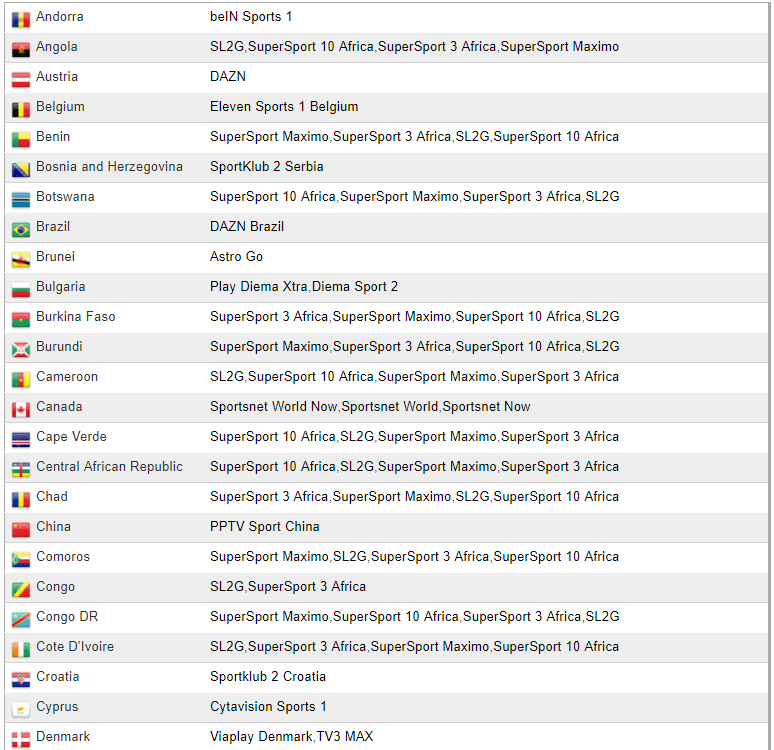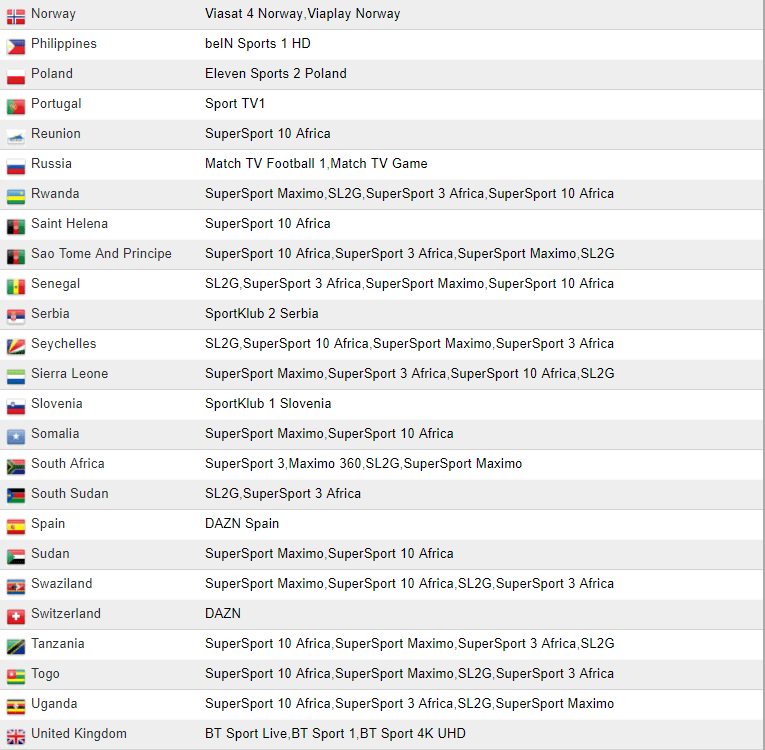 FA Community Shield Kickoff Time
Kickoff time for FA Community Shield is scheduled for
4 August 2019 15:00 BST (BST is +01:00 GMT) at Wembley Stadium
Staying up late or getting up early? ⏰

? #mancity pic.twitter.com/GYCFfQXfcA

— Manchester City (@ManCity) August 4, 2019
Community shield 2019 Ticket information
Liverpool fans supporters will be based in the East end of the stadium with access via the following turnstiles:
Level 1 – B / C / F / G
Level 2 – Level 2 East
Level 5 – A / D / E
Manchester City supporters will be based in the West end of the stadium with access via the following turnstiles:
Level 1 – H / J / M / N
Level 2 – Level 2 West
Level 5 – K / L / P
All gates will open for entry from 13:00.
Community Shield never really sells out but usually, tickets are shared between participating clubs. Please contact Wembley if you want to make a journey without a ticket.
for more information click here
Community Shield 2019 Match Officials
Referee: Martin Atkinson
Assistant Referees: Sian Massey-Ellis and Dan Cook
Fourth Official: Stuart Attwel
Reserve Assistant Referee: Neil Davies
VAR: Anthony Taylor
Assistant VAR: Steve Child
Yes VAR is in action for this match and will also aid all the Premier League Matches from now on.
Is FA Community Shield Just a glorified friendly?
Community shield fails to shake off the reputation that it is just a glorified friendly that may be due to the timing of the match or the fact that six out of the seven named subs can be used or Players who reach final stages of the International tournaments are rested.
But the fact that only two teams out of the 763 clubs(Record teams that participated in FA Cup 11-12) qualify to play the match should mean something.
Many coaches like Mourinho have used it as a platform to cultivate team spirit and success ahead of the Premier League season. The following coaches have come in support of the competition.
the first final of the season

-Pep Guardiola as Man City
Why do you ask this question, a friendly? When is the Community Shield a friendly? Of course we will be at the maximum and Manchester United will be at their maximum. The two teams want to win. I am very excited.

– Claudio Ranieri as Leicester City coach
The exciting thing we have found is that International fans show more interest in the match than domestic fans and Participating teams fanbase shows more attention than nonparticipating teams. Vote in the poll below to show which side of the argument you are on.
Community Shield 2019 Facts
2019 clash will be the first time Manchester City and Liverpool clash in Community shield match
Liverpool has won Community shield on 15 occasions, and their last was in 2006.
Man City has won on five previous occasions including last seasons victory against Chelsea 2-0.
Man City are the first team since Arsenal in 2002 to go into the match as both League and FA Cup winners. This is the only seventh time in Pl era where League Champions are facing runners-up.
Liverpool is going into the Shield as European Champions for the third time others being in 1977 and 1984.
Only two other clubs have gone into this tournament as European Champions, and they are Chelsea and Man Utd.
Man City have won only two of their last 12 meetings with Liverpool they have drawn three while losing 7 in regular time.
This is Liverpool's 22nd appearance(2nd highest following Man Utd) in the Shield while it is 12th for City.
Manchester City won six of their last seven games at Wembley Stadium while Liverpool won only one of their last five and even that victory was against spurs in PL.
Here is the preview of the match from Man City Official channel. There is no doubt in saying that this clash is always one for the football romantics.
Man City Preview
Before we get down to the preview media is trying to create something out of nothing with headlines like Pep Guardiola takes dig at Liverpool. The statement he made is that
Of course we have to win in Europe because it's an important tournament and difficult to win.
But I am not going to go to the casino and gamble everything I have in my pocket on just seven games.
They only highlight the second part and connect the casino and gamble to fluke and claim Guardiola winning Liverpool winning Champions League is a Fluke.
So, we are attaching Guardiola's press conference official Man City youtube channel.
From the above video, you can see that Pep has shown the utmost respect to Klopp and Liverpool while also taking a stance against other managers claiming Man City are in the position due to money at their disposal and explained how Man City is also FFP compliant.
He inspires me in many things. He is a class manager, a top manager. He's so good and it is an incredible challenge for me every time I face his teams

-Guardiola about Klopp in pre match press conference.
The major news about Man City squad is that Aymeric Laporte and Fernandinho are injured while Danilo might miss the match amid links to Juventus and Mahrez has just returned following AFCON victory.
However, Sergio Aguero could make a return to the squad and it will be interesting to see if Leroy Sane can force a move to Bayern as many media outlets are speculating which means this could be his last Man City game.
Man City comes into this game by winning three out of their four preseason games including a penality loss to Wolverhampton Wanderers in Premier League Asia Trophy Final.
They toured Asia by playing two games in China, One in Hong Kong and the final one in Japan.
Liverpool Preview
If everything goes their way, Liverpool could play 61 games this season and win 7 trophies this season, so there is no doubt in saying many of their star players deserve more extended pre-season break following deeper runs into their respective international tournaments.
This season could also see a lot of younger players getting the opportunity in Cup competitions and Club World Cup. The number of matches they could play is an excellent problem to have, but that needs to be managed carefully.
Alisson Becker, Roberto Firmino, Naby Keita, Mohamed Salah and Xherdan Shaqiri all returned this week and played in Friendly against Lyon which is always a good sign while Sadio Mane has just returned following his AFCON final loss.
Nathaniel Clyne, Ryan Kent, and Caoimhin Kelleher will not be available for the match following injuries.
Liverpool had a busier pre-season than Man City as they played seven games which included three wins and three losses. Their preseason started with two matches in England then three in the USA followed by one each in Scotland and Switzerland.
The shocking thing about preseason is that some sections of the media started circulating doom and gloom news about Liverpool following a four-match winless run, but the fact of the matter is Liverpool played younger players against established European teams.
This match gives an opportunity to end all the doom and gloom stories and also shut the mouths of people who claim Klopp has a problem playing at Wembley.
Here is the Pre-match press conference from the Normal one himself ahead of the match from Liverpool official Youtube channel
Man City Vs Liverpool Community Shield Prediction
Many bookmakers are predicting a win for Man City so we want to see your predictions so we are attaching a poll below
Please visit our home page to support us.