Tranmere Rovers 2019-20 League One Preview
Tranmere Rovers are a team on a high after two back to back promotion and will be hoping for another to make it three in a row and that is how the famous song goes
This is what it's like to be Tranmere
on our way back as you know
Micky Mellon's goin' for three in a row
three in a row three in a row…
Realistically, most fans will hope for survival and mid-table finish after a promotion season, but they have seen what Micky Mellon and his team are capable of doing so, promotion is also not out of expectations.
Tranmere Rovers might not have a fan base similar to their Merseyside rivals Liverpool or even Everton by numbers, but in terms of passion, their fans are called the 12th man for a reason.
When results go their way, Prenton Park can be one of the most electric football stadia in England. They had the fourth highest attendance in League Two last season with 6,552 per game in the regular season.
Financially, Tranmere Rovers seem to be a bit too reliant on their owners Nicola Palios and Mark Palios who seem to be injecting millions of pounds in the form of buying new shares to keep the club solvent.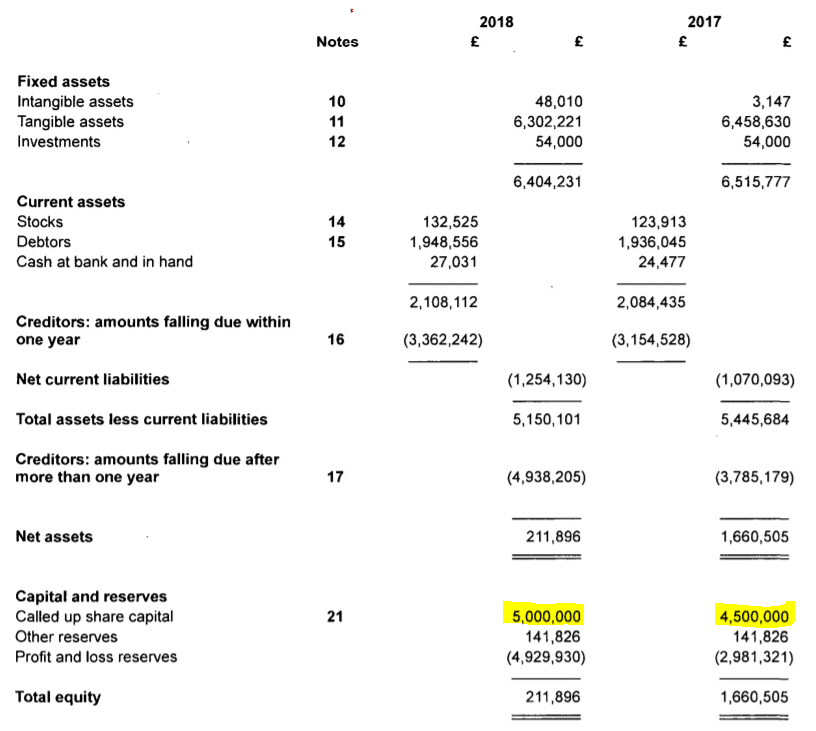 As you can see from the above-attached file owners have pumped in close to £9.5 million into the club. To further give clarity over the situation
The second investment of £5 million was made on 1st May 2018.
For the 2017-18 season, the club had a turnover of £4.5 million which is never a bad sign for the National League team but lost £2 million pounds which is never a positive sign.
It is important to note that these numbers are for non-league promotion season, So we need to add £472,000 for playing in League Two, £430,000 in the form of Premier League solidarity payment for the 2018-19 season and £677,000 for playing in League One, £645,000 Premier League solidarity payment for the 2019-20 season.
Coming to the football side, last season's extra-time goal from Connor Jennings in playoff final confirmed their League One status. They were consistently in Playoff positions and finished 6th in the regular season in the 2018-19 campaign.
Tranmere Rovers 2019-20 Departures
Rovers have released James Devine, Ben Tollitt, Paddy Wharton, Adam Buxton, Cole Stockton along with their last season's captain Steve McNulty who is currently 35-years-old.
Apart from those six they also lost one of their key players in James Norwood who scored 90 goals for the club in 180 games over four year period on a free transfer.
Tranmere Rovers Manager
Micky Mellon is the current manager of Tranmere Rovers. In his first three seasons as in charge, he guided them to playoff finals on all three occasions.
In the 2016-17 season(His first season), they lost in final to Forest Green Rovers; they won 2017-18 National League Playoff Final against Boreham Wood and won 2018-19 League Two playoff final against Newport County.
He has been coaching since 2006. Initially, he started as a youth coach and worked at Burnley for two years.
After that, he was appointed as manager at Fleetwood Town and guided them back to Football League with back to back promotions in 09-10, 10-11 seasons from National League North and National League respectively.
Following Fleetwood Town, he served David Flitcroft, Danny Wilson as an assistant coach at Barnsley and also had a caretaker spell of 3 games with them.
Then he joined Shrewsbury Town and guided them to promotion from League Two. After that, it was Tranmere Rovers.
Before becoming a manager, Micky Mellon played 173 games for Tranmere Rovers. He usually plays 4-4-2 but can also switch to 4-2-3-1, 3-5-2, 4-3-3 based on the opposition.
As manager of Tranmere Rovers, he has a record of 79 wins, 35 draws from 154 competitive games in charge.
Tranmere Rovers 2019-20 New Signings
Super Whites have made the following signings this season.
Corey Blackett-Taylor
Corey Blackett-Taylor is a 21-year-old English winger who predominantly plays as an RW but can also play as LW and AM.
The highly-rated youngster is a product of the Aston Villa academy and represented England at U-17 level scoring two from four appearances.
The only first-team experience he has comes from last seasons loan spell at Walsall, one championship and One EFL cup appearance he made for Aston Villa.
Corey Blackett-Taylor is 5'6" tall, he is nimble on his feet and can beat most defenders by combining his pace with dribbling skills.
He started last season with Aston Villa U23's, training with the first team but due to the lack of football and to gain the first-team experience he joined Walsall in January and made ten appearances for them in League One.
Kieron Morris
Kieron Morris is a 25-year-old winger who predominantly plays as a Right-winger but can also play as Right midfield.
He is a product of Manchester United, Walsall Academy and made 171 appearances for Walsall senior team. While still on Walsall books he was also on loan at Worcester City, Leamington, Wrexham and last season at Tranmere Rovers.
Kieron Morris joined Tranmere Rovers last season on loan after he only managed to play only six 90 minute games in the first half of the season with Walsall in League One.
He is a pacy winger who is 5'10" and enjoyed the freedom under Micky Mellon last season. Morris had two assists in League Two Playoffs with Tranmere Rovers last season.
Sid Nelson
Sid Nelson is a 23-year-old defender who predominantly plays as a CB but can also play as RB and DM.
He is a product of Millwall Academy and went on to make 38 appearances for Millwall senior squad but played most of his football on loan moves at Newport County, Yeovil Town, Chesterfield, Swindon Town, and Tranmere Rovers.
All the loan moves were to play League Two Football, and he amassed an experience of playing 68 League Two games over Two and half season loan moves away from Millwall.
In the second half of last season, he joined Tranmere Rovers but didn't find himself as a regular starter but finished the season on a high making six appearances in the final seven games including playoff games.
He made a total of 10 appearances for Super whites including three playoff matches and was part of the defense that let in only One goal in three playoff matches.
Sid is a 6'1" defender who can play from the back and has nimble feet for a big man which helps him make forward runs with the ball.
Stefan Payne
Stefan Payne is a 27-year-old Striker who came through the youth ranks at non-league sides Croydon and Sutton United but was also part of Fulham U23 set up.
He is known for his time with Barnsley and Shrewsbury Town. Payne had an exceptional season in the 2017-18 season with Shrewsbury Town where he scored 11 goals from 38 League One appearances.
Last season was very different from 2017-18 as he joined Bristol Rovers on a transfer fee but was not able to establish himself as a starter there which led to him joining back Shrewsbury Town on loan in January.
He found himself competing against Fejiri Okenabirhie and Tyrese Campbell who joined the Shrewsbury Town after his departure this led to him getting very limited time in the squad.
Stefan Payne played 33 games in the 2018-19 campaign and scored only 3 goals in all competitions.
He is a 6-foot tall player who works hard off the ball and tries to bring other players into the games with his touches. If he can find his goal scoring form he can be one of the best strikers in the league.
Darren Potter
Darren Potter is a 34-year-old midfielder who spent his youth years at Everton, Blackburn Rovers and Liverpool. He went onto make 17 appearances for Liverpool including nine appearances in Champions League.
He has experience of playing 481 professional football games including 243 League One games, 169 Championship games, and two Premier League games which will undoubtedly bring the much-needed experience of playing at this level to Tranmere dressing room.
Potter suffered from Achilles injury in December of the 2017-18 campaign which forced him to miss the rest of that season and most of the last season.
He only managed to make substitute appearance for Rotherham United on the final game of their championship campaign last season.
His notable accolades include 2004-05 UEFA Champions League, 2014-15 promotion from League One with Milton Keynes Dons.
He is a 6-foot tall midfielder who is an exceptional passer of the ball and a hard worker who can switch the ball and can bring other players into the game.
George Ray
George Ray is a 25-Year-Old, 6 ft 4 Center Back who has been at Crewe Alexandra since 2004. He represented Wales at U-21 Level 5 times.
He was an integral part of the way Crewe Alexandra way of football, meaning he can pass the ball from the back and make runs carrying the ball forward.
George Ray was Crewe Alex captain for 3 Years in a row and is a commanding defender who can hold the defense line very well during set-piece situations and can effectively implement Offside trap.
He made 152 appearances for The Railwaymen and scored five times. His appearances include 70 in League One and 67 in League Two.
Calum Woods
Calum Woods is a 32-year-old versatile defender who can play anywhere in the backline but predominantly plays as a Right Back.
Woods is a product of Liverpool F.C. Academy but didn't make any appearances for the senior team; He got his break at Dunfermline Athletic where he spent five years and made 145 appearances in Scottish football.
After Leaving Scotland, he made 169 appearances including 95 Championship and 56 League One appearances winning promotion from League One in 2012, 2015 with Huddersfield Town, and Preston North End respectively.
He is 5 ft 11 defender who is excellent on both sides of the field. Woods can run forward using his pacy, is an exceptional crosser of the ball and defensively he is a nightmare for wingers who want to get past him.
He covers a lot of ground during the match and is also a decent passer of the ball.
Jordan Ponticelli
Jordan Ponticelli,20, is one of the highly-rated players to come out of Coventry City Academy in the past few years.
He made 26 appearances for the senior squad in 2017-18 League Two promotion season and scored six goals while also playing for Academy squad and dominating with figures like scoring five goals in a U-18 game against Cardiff City.
After promotion to League One, Ponticelli was loaned out to Macclesfield Town last season, but he sustained a broken metatarsal in the first game at the Club which led to him missing most of the 2018-19 season.
He only managed to make nine appearances last season in senior football including five appearances for Coventry City mostly as a substitute.
Jordan is a 5 ft 11, hardworking Forward who likes to press the ball and win it back in the final third. He is a lethal finisher and tends to react as soon as the keeper spills the ball.
Tranmere Rovers 2019-20 Away Journey
| | |
| --- | --- |
| Total number of miles | 3109 |
| Average distance per game | 135.2 |
| Longest Trip | 258( Portsmouth) |
Tranmere Rovers 2019-20 Odds
Bookmakers are predicting a mid-table finish for Tranmere this season.
| | |
| --- | --- |
| Promotion | 33/1 |
| Relegation | 3/1 |
Tranmere Rovers 2019-20 Fixtures
To read more club previews click here or visit 72 in 72 section from the menu.