Walsall FC 2019-20 League Two Preview
Walsall has turned into an epitome of the statement "Football is a business" in recent years under the ownership of Jeff Bonser. They were the only club in the League One to be profitable in 2018.
They have been profitable for 13 consecutive years till 2018. That does not mean they were performing great on the field in contrary they were fighting for survival in the 2017-18 season and got relegated in the 2018-19 season.
Walsall had a turnover of £5,853,000 and made a profit of £9,000 in the 2018-19 season. Every football fan will think about the financial stability of their club, So it is understandable.
The change in Turnover from 2016-17 to 2017-18 was due to the sale of Rico Henry to Brentford on a £1,500,000 transfer fee(2016-17), so we can say that the club has a cash flow of close to £6 mill on average.
According to FFP rules club can spend 60% of their turnover on player wages so you would expect the club to spend close to £3.6 million on player wages as most clubs do, but the club was paying only £3.1 million in wages including wages of directors and Staff.
As you can see from above financial statements, The club was paying £3.1 million for all 136 employees combined. 2 directors were earning £164k in total, meaning 134 employees were paid £3 million in wages.
The next big question will be where does the rest of the money go? To answer that you need to understand one key fact which is Walsall Football Club doesn't own Bescot Stadium (even though it is owned by Jeff Bonser).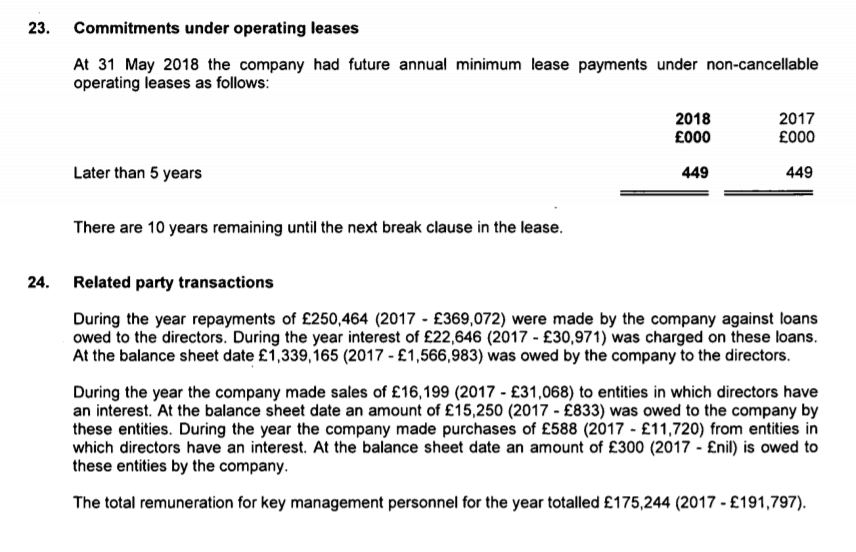 As you can see from section 23 the Saddlers have to pay rent to Suffolk Life to play at the Bescot Stadium – which costs them close to £449,000. Add to that £273,110 (including £22,646 in interest) paid to Jeff Bonser in repayments on loans he has made to the club in the past.
The club still owes Jeff Bonser £1,339,165 as of 2018 filing history which will undoubtedly be collected in the future if he continues as the owner.
The lack of ambition from Chairman led to fan protests which were peaceful and Jeff Bonser gave assurance to the fans that he will sell the club given he finds the right buyer.
Currently, he values the clubs assets at £9.5 million, So there is no doubt in saying he will be expecting a bid in a similar range if the buyer wants to acquire stadium along with the club.

To read full financial documents please click here
We are in no form implying that Mr. Jeff Bonser is wrong. This article is only informative in nature. We know our audience will have a varied range of responses to the content here, we welcome a healthy debate in our comment section below.
Now coming to the football side, they lost two important players in Amadou Bakayoko, and "The Turkish Messi" Erhun Oztumer in the summer of 2018-19, but they went on a 7 game unbeaten start which gave fans false hope of promotion push.
After those 7 games, their inconsistency started in September and turned into a poor run of games from October to the end of the season which subsequently led to relegation from League One.
Many fans feel that Dean Keates should have been sacked as early as January and a new man should have got a chance to bring in new players in the winter market.
Walsall 2019-20 Player departures
In the summer of 2019-20 season they released a total of 11 players. You can find the list below
Joe Edwards,
Kieron Morris,
Luke Leahy,
Jon Guthrie,
Zeli Ismail,
Chris Dunn,
Jordon Sangha,
Tobias Hayles-Docherty,
Isaiah Osbourne,
Cameron Peters and
Omar Mussa
Add to the list Nicky Devlin, who rejected a new 2-Year-deal and joined Scottish Premiership club Livingston FC on a free transfer.
Star striker Andy Cook was sold to League Two rivals Mansfield Town on a Transfer fee making it 13 players to leave the club in summer.
Walsall 2019-20 Manager
Darrell Clarke is the current manager of Walsall FC.
This was one of the most important summers in the clubs history as 19 players were out of contract and their star striker Andy Cook who came through the ranks of non-league was expecting a big payday and move away from the club.
Fans received the news of his appointment very well as he won two promotions with Salisbury City during his three-year stint as a player-manager and two with Bristol Rovers in the first two years of his appointment.
The most important thing that excites the fans is that he had a similar summer in the 2014-15 season where he released 13 players and built a team with his footprint and won promotion from National League and League Two in two consecutive years.
He is a known risk-taker that tailors his tactics based on the opposition and likes to play an attacking brand of football whenever he can.
He remains loyal to a club even when he gets better offers from teams in the higher league, for instance, he rejected many job offers from Championship teams like Norwich City while he was a manager of Bristol Rovers.
He is also known for his passionate celebrations and Saddlers fans will hope he has a career resembling Dean Smith, with whom he has spent at least one month this summer.
Walsall 2019-20 New Signings
With 13 departures in the summer, there is no doubt in saying that new signings were needed. Here is the list of signings made by Walsall FC this season.
Elijah Adebayo
Elijah Adebayo is a 21-Year-Old center forward who is a product of Fulham Academy. Walsall will be his second permanent club after Fulham, where he was since he was 7 years old.
He is 6'4" tall and is one of the quicker players among the big men making him a tough player to mark for Center Backs
Adebayo has experience of playing 34 League Two games on loan spells with Cheltenham, Swindon, and Stevenage.
He made 37 appearances for Fulham U-23 squad and scored 11 goals. Adebayo also trained with Fulham first-team squad after his recall from Swindon Town in January last season.
Stuart Sinclair
Stuart Sinclair is a 5 ft 7 31-Year-Old midfielder who came through the ranks of Luton Town Academy.
He is known for his time with Saddlers current boss Darrell Clarke at Salisbury City and followed him to Bristol Rovers.
Sinclair was one of the key pieces of the way Darrell Clarke wanted to play at Bristol Rovers.
He can drive with the ball and dribble past multiple opponents. He has the tendency to take the ball into the flanks and crosses the ball when opponents don't expect it.
He has experience of playing 100+ games in the Football League which will undoubtedly be useful for the young Walsall dressing room.
Sinclair missed most of the first half of last season due to severe bone bruising at Bristol Rovers. Following a red card in the FA Cup tie against Barnet and with the departure of Darrell Clarke, he managed to make only 18 appearances in League One last season.
James Clarke
James Clarke is a 29-Year-Old defender who predominantly plays as a Center Back but can also play as Right back if needed.
He also left Bristol Rovers(League One team) even after being offered a new deal to join Walsall and his former colleagues in Stuart Sinclair, Darrell Clarke.
The relationship between James Clarke and Darrell Clarke is well documented(They are unrelated namesake).
Darrell managed James Clarke at both his previous jobs(Salisbury City, Bristol Rover). Many feel James Clarke is an integral part of Darrell Clarke's playing style.
James Clarke will undoubtedly bring his valuable experience to the young Saddlers dressing room.
He is a 6-foot tall defender who has a good Ariel presence, passing ability and his reading of the game in League One was well praised.
James Clarke suffered from injuries in 2016-17 and 2017-18 seasons but had played consistently for Bristol last season making 49 appearances for the Pirates last season.
James Hardy
Hardy is a 23-Year-old versatile midfielder/forward, who is a product of Manchester City Academy. He can play as CM, LM, RM, LW, CF but predominantly plays as an attacking midfielder.
After his release from Man City, he joined the national league side AFC Fylde and spent 4 Years with them, making more than 100 non-league appearances.
Hardy scored 16 goals in 44 games last season, he was instrumental in AFC Flyde's 2018-19 national League playoff push and FA Trophy win.
He is capped 5 times by England C(England Amateurs) and won England C's Player of the Year this year.
James is known for his ability to dribble past opponents with ease. He likes to take the ball on the half turn and drives the ball forward. If given the right partner he can play great One-Two Passes.
We are sure that he will be entertaining to watch and a nightmare to defend against this season.
Interestingly he has taken a pay cut to join Walsall while having better offers financially from other National league sides.
Jack Kiersey
Jack Kiersey is a 20-year-old versatile midfielder who is a product of the Everton Academy. He can play as DM, AM but predominantly plays as a central midfield player.
Kiersey was one of the highly rated players at Everton academy and won their Under-18s' Player of the Season in 2016/17 but hamstring injury kept him out of action for much of the 2017/18 term, with other minor injuries also stopping the midfielder picking up game time.
He won Premier League 2 twice(2016-17, 2018-19) with the Everton U-23's. If he can keep himself fit, then there is no doubt in saying he will be a great addition to Walsall squad.
Jack Kiersey will not go directly into the first team but will be given playing time under current assistant and professional phase development coach Brian Dutton with the Academy team.
Shay Facey
Shay Facey is a 24-year-old defender who predominantly plays at right-back but can also play as a center back.
Facey is a product of Manchester City Academy and was highly rated as a youngster and represented England 19 times at youth level with the U-20's being the highest level.
He is a well-traveled player as he made loan moves to New York City and SC Heerenveen, both sister clubs of Manchester City and also made move to Rotherham United whilst still on city books.
Injuries have been a constant hurdle throughout his career as he suffered from hamstring strains, adductor strains on many occasions.
After leaving man city he joined Northampton Town, managed to make 42 appearances for the Cobblers over two seasons.
If he can keep himself fit, Shay Facey is a great header of the ball, covers a lot of ground as a full back and his work rate will make him a fan favorite.
Cameron Pring
Cameron Pring is one of the brightest prospects to come out of Cheltenham Town Academy but is currently on the books of Bristol City since he was 18 years old.
He has been on loan to Guernsey, Merthyr Town, Aldershot Town, Hereford, spent the first half of the last season at Newport County and managed to make 11 appearances for them scoring 1 goal.
During the second half of the season, he was loaned back to his boyhood club Cheltenham Town and made 8 appearances for them.
He is a versatile player who can play at CB, CM, LM but predominantly plays as Left Back.
He pacy, strong player who covers a lot of ground during the match and he can also put a decent cross into the box.
Jack Rose
Jack Rose is a 6 ft 3 24-Year-old Goalkeeper who predominantly played in Premier League 2 or as a backup goalkeeper for most teams.
He is a product of West Bromwich Albion and was called up for England U-16, U-17 teams and made 3 appearances for U-16's.
Jack Rose has an experience of making 9 appearances in League Two in Crawley Town and Accrington Stanley clours combined.
He is known for making reflexive saves but is often criticized for his set-piece commanding.
Wes McDonald
Wes McDonald is a product of Crystal Palace, Fulham, Birmingham City Academies and spent time on loan with Nuneaton Borough, Solihull Moors. As a youngster, he also trained with the England U-16 team.
Last season, he joined Yeovil Town on a short-term deal after a successful trial and made 12 appearances mostly as a substitute but a hamstring injury in November meant he missed the rest of the season.
He had been without a club since January. Mcdonald can play on both flanks as a winger and can also operate in LM, RM, and Attacking midfield positions.
He is a 5'8" pacy winger who covers a lot of ground during the game and is praised for his work rate at Yeovil Town.
Danny Guthrie
Danny Guthrie is a 5'9", 32-Year-Old, Central Midfield player who is a product of bitter rivals Manchester United, and Liverpool Academies.
Guthrie is a versatile midfield player who predominantly plays in central midfield but also can play at DM, AM, RM, RW.
He played only in the top two tiers of English football, and the 2019-20 season will be his first season in League Two.
Danny Guthrie has made 313 appearances in his professional career, which included 1 Champions League and 7 Europa League appearances.
He has made 103 Premier League appearances, 135 championship appearances, which will undoubtedly bring experience to the Young Walsall dressing room.
After being released by Blackburn in the 2016-17 season following their relegation to League One, He joined Indonesian Liga 1 side Mitra Kukar for the 2018 season.
He had been without a club since January. Guthrie is a great free-kick, Corner taker and his passing, first touch will undoubtedly be one of the best in League Two this season.
Mat Sadler
Mat Sadler is exactly what this young locker room needs as a Captain and with experience of 500+ professional appearances, there is no doubt in saying that his signing is one of the most important for them this season.
His 500+ appearances include 15 Premier League, 66 Championship, 305 League One, and 46 League Two.
Previously, Sadler spent the 2011/12 League One season with the Saddlers and made 52 appearances in Walsall colors.
The 34-Year-Old is a product of Birmingham City Academy and predominantly plays a Left Back but can also play as CB and RB.
He is a 6-foot tall defender with good Ariel presence, Strength, and he is one of the best readers of the game defensively.
He has been on books of Shrewsbury Town for the past 4 years, was a regular starter under John Askey but after his departure, Sam Ricketts started giving youth a chance on Mat's expense.
Sadler played 35 games last season for Shrewsbury Town and was wearing the captain's armband band for every single one.
Walsall 2019-20 Away Journey
Total Away miles Walsall fans have to travel this season is 2493 which means they have to travel an average of 108.4 miles per game. They are the team to have the lowest away journey in League Two this season.
The Longest away game for them this season will be Plymouth Argyle. For that game alone they have to cover 206 miles.
Walsall FC 2019-20 Odds
They are one of the favorites to get promoted this season according to many bookmakers. Their odds are as follows.
| | |
| --- | --- |
| Odds | Effect |
| 11/1 | Title |
| 10/3 | Promotion |
| 40/1 | Relegation |
Walsall 2019-20 Fixtures
To read more club previews click here or visit 72 in 72 section from the menu.